This morning we talked in depth about industrial symbiosis together with Eng. Laura Cutaia, Head of the Sustainable Production Systems Department of ENEA (the Italian Agency for Energy and Environment). Indeed, CHIMERA fits perfectly within this research domain.
Later on, we met Dr. Alice Dall'Ara, Researcher at the Technology of Materials' Laboratory in Faenza. We talked about their LIFE projects on chicken manure for tanning, PODEBA and LIFE TAN. There is space for collaboration with both Laura and Alice and we will most probably organize some events together in the near future.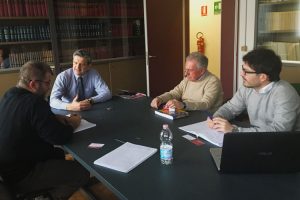 In the afternoon, we went to the University Alma Mater Studiorum of Bologna, in particular the Faculty of veterinary medicine. Professor Giampaolo Peccolo welcomed us in the seat of Ozzano and we discussed about Italian farmers' behaviors when it comes to innovative plants and about biogas plants.
Together with the Professor, we met Dr. Pier Luigi Graziano, President of Arvan Srl, consultancy firm specialized in the fertilizers, that gave us a first insight in this sector. We know very little about it, but t is extremely interesting for the business model we are going to choose when CHIMERA will be ready to penetrate the market, unavoidably entering in contact – and hopefully stipulating agreements – with fertilizers' produces and distributors.